Sonderen Packaging Recognized at National Packaging Design Competition.
Sonderen Packaging recently earned an Excellence Award at the Paperboard Packaging Council's (PPC) 77th annual North American Paperboard Packaging Competition. The packaging designs recognized in PPC's competition represent some of the best folding cartons and rigid boxes manufactured over the past year. "On behalf of the Paperboard Packaging Council, I congratulate all of this year's deserving winners," said Ben Markens, President of PPC. "To be recognized in our competition is a feat, demonstrating mastery in design, manufacturing, distribution, shelf presence, and much more. It is a true stamp of excellence."
The carton that was entered was not unique in structure or embellishments but in the material. Sonderen Packaging partnered with Clearwater Paper to produce a carton on ReMagine,™ a 30% post-consumer recycled paperboard. ReMagine premium paperboard provides an optimized balance of recycled fiber content while maintaining the print and performance of premium SBS paperboard. It was specifically developed to meet the sustainability expectations of the Next Generation who prefer packaging designed for the circular economy.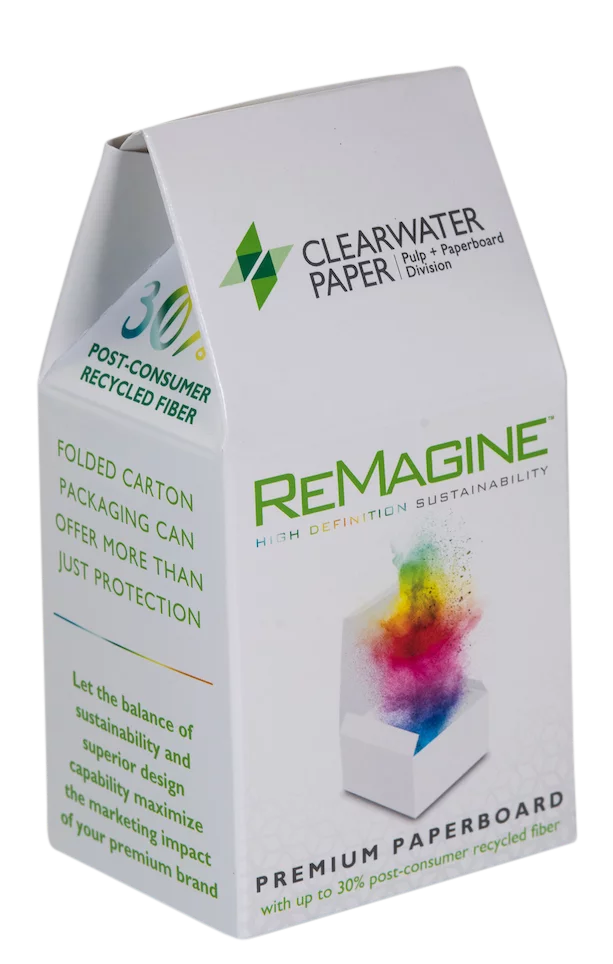 "ReMagine™ post-consumer paperboard was developed to meet the sustainability expectations of the Next Generation who prefer packaging designed for the circular economy."
Clearwater Paper
"ReMagine paperboard exceeded expectations during every aspect of converting from sheeting to finishing. We would recommend this product for any brand who requires superior printing and desires to clearly convey their environmental values," said Keva Sonderen, co-owner of Sonderen Packaging.
A relatively new customer of Sonderen Packaging based out of Portland Oregon, made the decision to use ReMagine to reflect the ideology of their emerging brand and high end products. The 30% post-consumer recycled content in this paperboard is important for sustainability but also met their goals of beautiful packaging. Wildwood Chocolate creates handcrafted chocolate inspired by the natural beauty of the Pacific Northwest– "With our award-winning chocolates and confections, we aim to bring you the same sense of joy we experience wandering the scenic Wildwood Trail in Portland, Oregon. Our unique flavor combinations, luscious textures, and graceful balance create an exceptional chocolate experience for your enjoyment." Keva Sonderen has had the pleasure of tasting a few of the unique flavors they offer. "While all of the bars are visually stunning and mouthwatering, Cardamom and Honey Carmel with Sea Salt is my absolute favorite!", she states.
It's not every day that the paperboard industry develops a new product, in fact it is very rare. This is why we are so excited about ReMagine. We stand by the quality and sustainability mission and are confident that customers will see why choosing to use this type of paperboard will increase the value of their brand. "We are fortunate to be in the packaging business and excited to continue to partner with Clearwater Paper on new and innovative projects as we have done for many years."-Keva Sonderen
About Clearwater Paper
Clearwater Paper manufactures quality consumer tissue, away-from-home tissue, parent roll tissue, bleached paperboard, and pulp at manufacturing facilities across the nation. The company is a premier supplier of private branded tissue to major retailers and wholesale distributors, including grocery, drug, mass merchants, and discount stores. The company also produces bleached paperboard used by quality-conscious printers and packaging converters and offers services that include custom sheeting, slitting, and cutting. Clearwater Paper's employees build shareholder value by developing strong relationships through quality and service.
To learn more about Clearwater Paper, visit www.clearwaterpaper.com
About the Paperboard and Packaging Council
Now in its 91st year, PPC is the North American association for converters of paperboard packaging and their suppliers. PPC works to grow, promote, and protect the paperboard packaging industry while providing its members with resources and tools to compete successfully in the marketplace. For more information, visit www.paperbox.org.
To learn more about PPC and the North American Paperboard Packaging Competition, visit paperbox.org.